Recent Projects
The professionals of Francoeur Engineering have extensive experience in the design and construction of process systems. We have successfully completed numerous engineering projects, ranging from specialty chemicals plants to landfill gas processing plants, both in and out of California.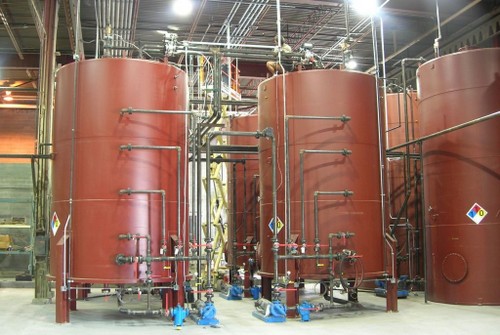 The following list describes several projects Francoeur Engineering has worked on recently:

GENERAL ENGINEERING PROJECTS

1. Resins Manufacturing

Evonik Corporation's Los Angeles plant is a batch resins plant manufacturing curing agents and related products for the specialty chemicals market. Francoeur Engineering provides much of their process and mechanical engineering on an as-needed basis for capital projects, process upgrades, and process documentation. Recently completed projects include: design and installation of a truck loading/unloading facility; replacement of a packaged cooling tower and pumps; replacement of a large hot-oil reactor with a newer, larger reactor; removal and close-out of 7 underground tanks and the installation of 4 new, double-wall underground tanks; the design and startup of a condensate recovery and treatment system; mechanical specifications and piping design for a new wastewater neutralization system; plant-wide review and sizing of pressure relief devices; complete overhaul and creation of over 70 plant P&ID's; design and specification of various instrumentation and controls for increasing productivity, automation and safety; review, documentation and testing of process interlocks; and miscellaneous piping design projects.

2. Hydrogen Production
Francoeur Engineering provides project engineering, process design, piping design, and related services for a number of industrial hydrogen production plants owned and operated by Air Products and Chemicals, Inc. Projects are often planned well in advance for execution during plant turnarounds. Recently completed projects include installation of a new RO water system, replacement of large heat exchangers (75,000+ lbs), replacement of waste heat boilers, installation of a blast-resistant control room, and installation of methanator and compression systems for hydrogen truck transfill. Current projects include replacement of an oily water separator system, design and installation of a steam blowdown system, various projects involving adding new or different control valves, a large steam turbine replacement project, control system upgrades, and more.

3. Specialty Chemicals

Huntsman Advanced Materials, Inc.operates a batch plant in Los Angeles manufacturing products for the aerospace and specialty chemicals market. To accommodate increased demand for some of their products, Huntsman decided to expand their operations at the L.A. plant by adding a new batch reactor and associated condensers, charge tanks, pumps, etc.; accommodation for up to 3 additional reactors; 2 new batch mixers and related charging and packaging equipment; and new utilities, including a boiler, cooling tower, and chiller. Francoeur Engineering was contracted to perform all process and mechanical designs, prepare detailed specifications, and identify and select qualified equipment vendors for the project.

4. Reactor Relief System

Huntsman Advanced Materials, Inc. contracted with Francoeur Engineering to review the sizing of all of their relief valves on their batch reactors and associated vessels. Francoeur Engineering completed a detailed review of their system and determined that many of their valves were substantially oversized, even for runaway reaction conditions. Installing smaller valves will save on overall maintenance costs as well as simplify the process of physically removing the large valves for annual testing.

5. Permitting

Public Service Marine, Inc. operates a petroleum barge with an extremely efficient vapor recovery system. Francoeur Engineering was contracted to assist PSMI in procuring all necessary environmental permits to operate in the SCAQMD (Los Angeles) area. After successfully securing these permits, Francoeur Engineering has begun on permits for the Bay Area. Francoeur Engineering also provides process expertise on issues relating to the operation of the barge and its many systems.

6. Urethane Manufacturing

Accella Polyurethanes is a large urethane manufacturer making a host of different products. Francoeur Engineering recently helped with the design and layout of a new facility in Rancho Cucamonga where 3 separate plants were relocated and combined into a common site. Numerous mixers, tanks and ancillary equipment needed to be moved. The location of each piece of equipment had to be considered carefully to optimize the manufacturing flow while considering piping, utility, maintenance, and manufacturing flexibility. Prior to this, Francoeur Engineering recently designed a new, grass-roots plant for the predecessor plant, Arnco, to replace their undersized plant in Cleveland, Ohio. The new plant has more than 5 times the capacity of their old facility.

7. Powdered Epoxies Processing

Air Products and Chemicals' Huntington Beach plant sizes and blends various powdered epoxies and related materials. Francoeur Engineering has provided all of their process and mechanical engineering needs for the last several years. Recent projects include replacement of old baghouses; design of a new, plant-wide dust control system; design of a bulk-bag unloading system; air permitting; preparation of all plant P&ID's and electrical schematics; and miscellaneous piping and safety-related projects.

8. Precious Metals Recovery

Francoeur Engineering is working with Applied Power Concepts to develop a novel process to recover gold, platinum and palladium from alluvial deposits. APC has been developing the process in the laboratory for some time; Francoeur Engineering is taking that information and scaling up to develop a commercially viable pilot plant. Initial permitting has been completed and construction will begin soon.

9. Algal Sugars Processing

Francoeur Engineering worked closely with a high-tech company that has successfully pioneered the production of high-molecular weight sugars from algae and helped them to develop a refining process that enabled them to bring a new, renewable product to market.


LANDFILL GAS PROJECTS

1. Gas Compression Stations

Waste Management has municipal contracts with several Chinese landfills to use the landfill gas generated in the landfills for power generation in gas engine generators. Francoeur Engineering was subcontracted to provide process design for the gas compression facilities for 3 sites. For the Hong Kong design, there were three potential gas users - the engine generators, a thermal oxidizer, and a landfill flare with minimum flow requirements. Francoeur Engineering specified multiple positive displacement blowers with variable speed drives to meet the wide range of gas flowrates that were anticipated. Field instrumentation, custody-transfer flow metering, and a PLC were utilized to control and meter the operation. For the other two sites in China, a standardized design similar to the Hong Kong design was adopted so that it might also be applied at other landfills in the future. The Hong Kong system was started up in 1997; Guangzhou and Hangzhou were started up in 1998.

2. LFG Condensate Injection

Santiago Canyon Landfill is a closed site in the city of Orange, CA operated by the County of Orange IWMD. Francoeur Engineering provided all process and mechanical design and specifications for a system to dispose of landfill gas condensate and contaminated groundwater collected on the landfill via controlled injection into the existing landfill gas flares. The system as designed will work unattended with no net impact on the flare station emissions. Construction has not begun yet.

3. LFG Compression Station

The capacity of an existing landfill gas chilling system at Waste Management's Bradley Landfill in Sun Valley, CA has been limiting potential across-the-fence gas sales. Francoeur Engineering was contracted to determine if the system could be modified and/or optimized to process more gas than is currently handled. Francoeur Engineering determined that a third stage of cooling and a second chilled glycol unit would greatly increase throughput and recommended the installation of the equipment.

4. LFG Condensate Injection

The County of San Diego owns and operates several landfills within the County, of which San Marcos is the largest. The County recently installed a new gas collection system and flare station. Francoeur Engineering designed and specified a condensate injection system as a means of incinerating all gas condensate collected by injecting directly into the flare itself. Although the system is capable of higher flowrates, the County only permitted for a 2 gpm flow.

5. LFG Flare Skid Design

Ameron and Linklater Corporation are providing a turnkey landfill gas flare station to the Capitol Regional District, Hartland Avenue Landfill in British Columbia. Francoeur Engineering was contracted to design and layout the blower skid and site plan so that the equipment could be completed piped, wired and tested on a skid in the shop prior to shipment. The skid contain inlet and outlet piping and valving, knockout drums, blowers, control panels, and MCC.

6. H2S Control

Francoeur Engineering conducted numerous tests at L.A. County Sanitation District's Puente Hills Landfill to test the sulfur removal efficiency of Quaker Chemical's Enviro-Scrub. Tests were performed upstream of the PERG power plant. Francoeur Engineering worked closely with the District to develop a system and set of specifications for a packaged system to control entering particulate and condensate followed by sulfur control with Enviro-Scrub. The final design incorporated two parallel systems of an ejector-type venturi system for particulate and condensate control, followed by a packed tower with circulating Enviro-Scrub. The total capacity is 40,000 scfm with a maximum pressure drop of 8" w.c. Spent Enviro-Scrub will be sewered along with the large volume of leachate and gas condensate already leaving the landfill.

7. LFG Treatment & Compression

The Scholl Canyon Compression Station receives 10 MMSCFD of landfill gas from an existing flare station and compresses, desulfurizes, and dehydrates the gas for pipeline transport to the Glendale Public Service Department for boiler fuel. The gas is compressed in two reciprocating compressors; desulfurized in an Enviro-Scrub packed tower absorption system; and dehydrated with a liquid chiller refrigeration system.

Francoeur Engineering personnel were responsible for the complete engineering, permitting, and management of the project. Engineering involved not only the selection and specification of all equipment and instrumentation, but also a lifecycle cost justification for the purchase of all major equipment. Project management was responsible for maintaining the project within a very tight contractual schedule, as well as procuring all permits, including SCAQMD.